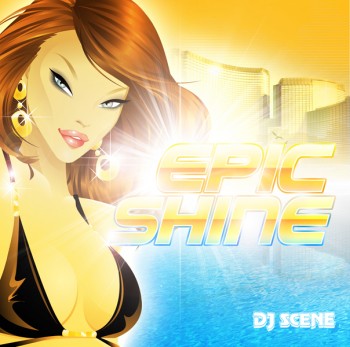 Straight from the sunshine of Las Vegas, DJ Scene drops his latest release Epic Shine. Inspired by his weekly residency at Liquid pool (Aria, City Center) Epic Shine is a glimpse into the daylife pool parties of Las Vegas, moving through multiple genres of house music and incorporating selective hip hop vocals.
No stranger to daylife, DJ Scene won 'Best Pool DJ' at the 2010 Las Vegas DJ awards and has DJed everywhere from Wet Republic at MGM Grand to 'Ditch Fridays' at the Palms pool.
Epic Shine is 33 of the hottest tracks and includes exclusive remixes, edits and live blends from DJ Scene.
01 Sun is Shining (Dirty South Remix) – Yanou (:00)
02 Pursuit of Happiness (Them Jeans Remix) – Kid Kudi (:54)
03 Spaceship – Benny Benassi ft. Kelis, Apl.De.Ap & Jean-Baptiste (1:53)
04 Pon De Floor (Scene) – Major Lazer w/ Estelle (2:39)
05 Ghettoblaster – Afrojack & Bobby Burns (3:53)
06 Watch The Club Go – DJ Bam Bam ft. Mr. Robotic (5:30)
07 Pump Up The Jam (Dimitri Vegas & Like Mike Remix) – Technotronic (6:12)
08 Over (Scene) – Laidback Luke w/ Drake (6:57)
09 Heartbreaker (Laidback Luke Remix) – MSTRKRFT ft. John Legend (9:09)
10 Alright – Pitbull ft. Machel Montano (9:38)
11 My Chick Bad (Scene remix) – Ludacris (10:39)
12 Gypsy (Scene) – Chuckie w/ Crystal Waters (12:24)
13 Rap Das Armas (Gregor Salto & Chuckie Remix) – Cidinho & Doca (13:05)
14 I'm In The House – Steve Aoki ft. Zuper Blahq (14:19)
15 Pacha On Acid (Scene) – Afrojack w/ DJ Class (16:47)
16 Beamer, Benz or Bentley (Scene Remix) – Lloyd Banks (18:01)
17 Heads Will Roll (A-Trak Remix) – Yeah Yeah Yeahs (19:16)
18 Bulletproof (DiscoTech Remix) – La Roux (21:58)
19 Leave The World Behind – Axwell, Ingrosso, Angello & Laidback Luke (24:32)
20 Hey Hey – Dennis Ferrer (25:50)
21 Dirty Talk (Laidback Luke/ Scene) – Wynter Gordon w/ Rick Ross (29:07)
22 Kixxx (Tristan Garner/ Scene) – Gregori Klosman & Danny Wild w/ Drake (31:30)
23 I Remember – Deadmau5 & Kaskade (33:14)
24 You and I (Deadmau5 Remix) – Medina (34:57)
25 Dynasty (Dada Life Remix) – Kaskade ft. Haley (36:40)
26 One (FourColorZack) – Swedish House Mafia (38:09)
27 My Friend (Scene) – Global Deejays ft. Ida Corr w/ Public Enemy (40:23)
28 My Feelings For You – Avicii & Sebastien Drums (41:59)
29 Add Suv (Armand Van Helden Remix) – Uffie & Pharrell (44:21)
30 Stereo Love – Edward Maya & Vika Jigulina (46:36)
31 I'm In Love – Alex Gaudino (48:22)
32 Bromance (Avicii/ Alviin & Da Frenchy) – Tim Berg w/ Amanda Wilson (49:52)
33 Phazing (Tiesto Remix) – Dirty South ft. Rudy (52:40)
DOWNLOAD
https://djscene.com/epicshine.zip